Polyglot Cruise 2020
Registration now open!
20 18 spots available at early-bird pricing.
"CONSISTENCY AND CAREERS"
The very first polyglot cruise will feature keynotes and workshops around two distinct topics, both of huge interest to language learners.
How do you stay consistent so you can achieve your language learning goals?
What are the best habits, routines, and strategies for never losing momentum?
What kind of careers can you build with languages?
How can you supplement your income with no certificates, degrees, or training?
What are the easiest certificates to get, and where do you start?
Opportunities in an online world
....and much more!
Speakers TBA.
April 2020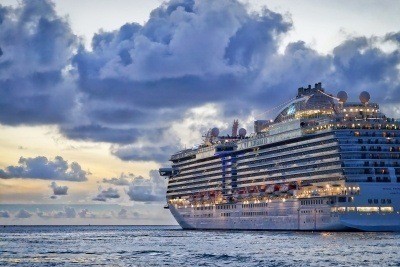 Join up to 100 polyglots and language fans when the first edition of the "Polyglot Cruise" sets sail in the Mediterranean in the spring of 2020.
Join the interest list below to be the first to receive updates about the cruise, or register for the cruise now and reserve your spot at an early-bird discount!
This is what you get:
7-day all-inclusive luxury cruise in the Mediterranean with stops in Italy, France, Spain, and Malta to practice your European languages. 
Departure from Barcelona ensures good connectivity and affordable flights.
Keynotes and workshops throughout the week with 2 major themes
Unprecedented round-the-clock socialising available on-board. Make new friends or reunite with old ones!
Welcome ceremony and private area on board
Limited to 100 participants including volunteers and speakers, in 2 registration waves.
FAQ
How many languages do I need to speak to come to the Polyglot Cruise?

There is no language requirement, all you need is a keen interest in languages and at least one language – then you'll do just fine!

ANOTHER Polyglot Event? Aren't there way too many already?

No. There can never be too many events, and with LangFest being in North America and the Polyglot Conference in Japan there are lots of people who are unable to make the trip. Polyglot Cruise is a complement to the existing events, not meant as a replacement and will not coincide with any of them.

Why a Cruise ship?

A cruise ship offers an unprecedented way for participants to socialise without having to worry about where to go for dinner or after-event drinks. Everything will be taken care of so all you have to do is have fun and socialise – which for many is the biggest benefit of language events.

How much will it cost?

Staying in a 2-bed cabin with another participant, without any extras the cost is $750.00 which includes your event ticket to the Polyglot Cruise area with keynotes, workshops, and more.
Gratuities are €10/day per participant and paid directly to the cruise line on top.
An optional drinks package can be added for around $200/person to include all-you-can drink of basic sodas, beers, wines, and speciality coffees.
Solo and 3-people cabins available on request.

Do I have to organise my own cabin?

No. We'll take care of everything except transportation to and from the departure port.

What included in the ticket?
This is subject to change depending on the final confirmation with the cruise line.

Shared Cabin on board (solo available at a cost)
All meals and basic drinks
Entertainment and events provided by the cruise line
Full access to our exclusive section on board the ship
Keynotes and Workshops
Unique Excursions at select ports of call
WiFi

What isn't included?
This is subject to change depending on the final confirmation with the cruise line.

Gratuities (€10/day per participant)
Alcoholic and premium drinks (except for our exclusive events.)
Premium eating locations on board
Cruise-organised shore excursions and certain premium activities on board
Join the interest list