Babbel Review: Here's why I don't like it.
Babbel review: Babbel has grown to be one of the biggest online language course providers. In this post I share why I don't like it.
Babbel is a very affordable online language course provider, that features familiar quiz-style course elements combined with exercises, pronunciation and grammar trainers as well as vocabulary practice tools.
They offer English speakers 13 languages to pick from, with each subscription being purchased separately. You can also learn English with Babbel from Spanish, French, German, Italian, Swedish, and Portuguese.
Babbel Review Index
Babbel Lessons
The lessons are typical quiz-style, which remind me a lot of the styles used on Duolingo and Rosetta Stone.
Seems like this is somewhat of a standard in online language courses these days.
The amount of lessons per language seems to vary tremendously.
At the time of this review Danish had 70 lessons in the main course series, but only at beginner level.
When I checked out the French counterpart there were at least double the amount of beginner lessons, plus double the amount of that again in intermediate lessons.
One can only hope they will add to all their languages as they go along.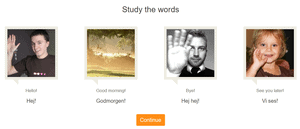 Since their free trial is restricted to just one lesson, unfortunately this is everything you'll see as a trial member. You'd have to pay to unlock the other teaching elements, which is a shame.
I would've liked to see them display what else Babbel does other than just this vocabulary, picture-matching quiz-style learning – maybe there isn't more?
Audio Recording Quality
As I was testing out their Danish course (they offer the first lesson free to try for all their languages) I was not super impressed with the quality of the Danish recordings. It sounded very artificial.
To me the most important feature of any language learning tool or course is that the lesson materials are not only of the highest possible quality, but also that they reflect reality.
It's definitely a native speaker, but I just don't like how the recordings are extremely dragged out. Like saying "Goooooood mooorning" instead of what normal people might actually say on the street.
Since it's spaced repetition there's really no point in offering a slowed down, over-exaggerated version of the language – this is only a unnecessary detour to actual fluency (hah!).
Of course I only tested 1 module of 1 language, so I can't say if it's a trend or just the Danish an unfortunate stand-alone incident.
Languages Available on Babbel
Spanish, French, German, Italian, Brazilian Portuguese, Dutch, Swedish, Turkish, Danish, Russian, Norwegian, Polish.
All courses are taught in English, except English which you can learn from 6 languages.
What Does Babbel Cost?
Babbel is a pretty affordable service, costing between $6.95 to $12.95 per month (per language).
The price you get is dependent on how long upfront you commit for. Check out the prices in euro here.

What I like
A good amount of content to dig into even for the smaller languages
Easy to use interface both on desktop and mobile
Relatively cheap
Variety of learning options
What I don't like
I'm bored to death after the first lesson
Gamification is overrated, and Duolingo offers pretty much the same experience for free.
Possibly unnatural recordings
Way less content on some courses compared to others
No content for upper intermediate and beyond
Babbel is clearly copy-and-paste and scale instead of producing high quality original content for each course.
Babbel Review Conclusion
Is Babbel worth it?
For me it wasn't. However, they have millions of users so maybe it will be right for you?
Babbel offers nice little quiz-style courses at extremely affordable prices. For your investment you get real recordings and access to a handful of learning options and tools to help you learn better.
The problem is that you get this for free with Duolingo, so why pay for it with Babbel?
This gets a pass from me, unless you're a really visual learner who enjoys the quiz-style courses, and you spot a good deal for Babbel I wouldn't recommend it.
Babbel Alternatives
I recommend LanguagePod101/LanguageClass101 – they offer audio courses for 35+ different languages and I think that method is way more exciting than the Babbel format. It's similarly priced too.
Duolingo – does pretty much the same as Babbel. The big advantage is that it's free. The downside is that the audio is machine generated which is not ideal. However you do get a lot of lessons in the app, and apart from a few ads it's completely free to use.
Consider using apps such as Memrise or Clozemaster. They will give you a similar learning curve, and are both free to use for basic features. They don't have quizzes with pictures, but you learn fast nonetheless.
---
This has been my babbel review. Check out my other reviews.
Summary
Reviewer
Review Date
Reviewed Item
Babbel Online Language Courses
Author Rating