How to Learn Spanish with a Podcast: Spanish Audio Lessons
Hóla! Are you looking for a Learn Spanish Podcast? Look no further. On this page I'm sharing my absolutely favourite resource to learning Spanish: SpanishPod101.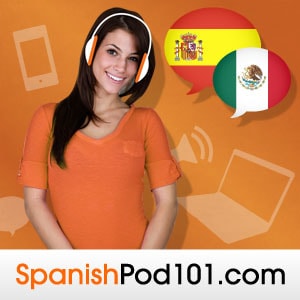 Learn Spanish Podcast: What is SpanishPod101
SpanishPod101 is a premium audio podcast for people who are interested in learning Spanish quickly and efficiently.
By joining the site you get access to a ton of Spanish audio lessons.
The lessons are mostly audio, designed to be transferred to your mobile device (like your phone), but they also have tools for learning via their website and also ways to learn the common phrases in Spanish.
They also have bonus videos and materials.
The way it works is that you listen to a native speaker and then a non-native speaker in a dialogue. They break each episode down like the following:
Dialogue Fast in Spanish
Dialogue Slowly in Spanish
Dialogue in Spanish with English translations
Uses for some of the words and common Spanish phrases from the episode
Grammar points from the episode
Dialogue repeated in normal Spanish
Which means you train your Spanish listening, speaking (because you repeat out loud), vocabulary and grammar. All in one conveniently packaged episode usually less than 10 minutes.
SpanishPod101 Features
Hundreds of audio lessons from absolute beginner to advanced levels of Spanish
Vocabulary builder: Common Spanish Phrases you need to know
Essential Grammar
Cultural lessons
Thematic vocabulary
Pronunciation Trainer
Spanish Flashcards
Bonus videos and materials
And much more!
Are the Pod101 Spanish lessons for beginners?
YES! SpanishPod101 contains lessons for absolute beginners all the way up to advanced levels of Spanish.
They have Spanish audio lessons for all levels of learners.
Learn conversational spanish
It's immersion that allows you to learn conversational Spanish, because the dialogues are taken from very natural situations.
This is much better than the usual Spanish textbooks that teach a very boring and book-form of Spanish.
In this learn Spanish podcast you get the down-to-earth Spanish actually spoken in Spain.
Highly recommended!