Guide: How to start your own language learning blog
Welcome to the Actual Fluency Blogging Guide. This guide walks you through setting up your own language learning blog, so you can get higher levels of accountability. This motivates greatly in sticking to your language learning routines.
When it comes to starting a language learner blog there are two main options available. You can either start a free one, or you can start one with a small investment. It's highly recommended to go with a paid option as it gives you more creative freedom, as well as a financial incentive to 'keep going' with your language studies.
This guide was last updated December 6th 2016.
Option A: The Free Blog
This is very simple, you simply go to www.wordpress.com and register. You will have a blog up and running in less than 2 minutes. Whilst you cannot add plugins or any advanced functionality you are able to change the theme to suit your liking.
The reason I recommend WordPress over a dozen other options is that once you are ready to move from a free blog to your own you will be using the WordPress software, so using the free option to gain familiarity is a plus. If for some reason you can't do WordPress, Google has its own alternative called Blogspot.
There isn't much to say other than if you do not want to invest funds in the alternative, this gets you up and running.
If you, like me, prefer to have your own website with a .com domain and the option to fully customize your blog, then read on to the next option. If you decided to go with the free blog, then you are actually ready to just go blogging – it's that easy!
Option B: Your own website with unique address
Note: This is a complete guide how to buy hosting, domain and setup your own WordPress-based blog with the essential plugins required to get started. If you already have a blog up and running or you decided to go with a free .wordpress.com or .blogspot.com blog you may skip this chapter.
This process is not done in 2 minutes, however, with my guide you should be up and running within 15-20 minutes.
Absolutely no technical knowledge is required.

Step 1.1 – Get a cheap domain name
I like to save money everywhere, and domain names are no exception. GoDaddy.com regularly has promotions that will get you .com domains for $2.95 ($3.17 with fees) this saves between $10 and $12 on the domain, depending on where you buy them.
The way to find this code is to simply go to a trusted coupon site. I have used the site FatWallet in the past as they are quick to update new codes. A simple Google search might also reveal latest coupons. Go here to see the current GoDaddy coupons on Fatwallet.

(Examples of GoDaddy 2.95 domain codes, these were valid as of early April 2014. By the time you read this, they are likely to have expired and you must find new ones)
Go to Fatwallet and NOTE the 2.95 coupon code. I don't recommend clicking "Shop now" directly from their site as I have found some issues with the GoDaddy website that way where it didn't apply the coupon. Instead click the cut-out bit of the coupon (where it says COMEDY295) for instance.
Once you have the coupon you can check out with GoDaddy. During the checkout process they will try to upsell a lot of crap to you that you do not need. If your total exceeds around $3.19 go back and check (this is for 1 year, if you want to register for more years your total may vary) and just disable all services. You ONLY want the domain name.
Step 1.2 – Registering your hosting space for your blog
Once you have your domain name registered with GoDaddy, it's time to buy your hosting. In the world of websites a web host is the place where your website is hosted, while the domain name is just the name that tells browsers where to go for the website.
Now, if you followed the last step of the guide you might be wondering; Why am I not recommending GoDaddy for hosting? The answer is: They are SLOW. I previously used GoDaddy to host multiple websites and the site speed was just atrocious. Then I switched to HostGator and now my sites load in seconds.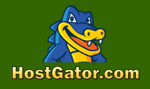 – But Kris, why not just buy the Domain via Hostgator then?
You can definitely do that. The thing is though, you'll be paying full price for the domain. This is around $13. If you are not a cheapskate like me, you can definitely just go via HostGator, although having it via GoDaddy is totally fine too.
HostGator has 2 packages relevant to us: Hatchling or Baby. If you only plan on hosting one domain (blog/website) then Hatchling is more than good enough. However, if you want multiple blogs or websites you need Baby. You can always upgrade this should you require it later.
Using the coupon code "actualfluency" will give you a $9.94 discount on your first month (I love discounts.) Notice that HostGator has a pretty cool performance system, where you get a lower rate the more months you buy upfront. If you buy 6 months or more then you can use the coupon code: "actualfluency25" which will process a straight-up 25% discount to your order.
Step 1.3 – Link your Domain to your Hosting Account
This step goes through the process of linking your HostGator hosting account to your GoDaddy domain registration. This is so your domain knows where your files are.
First you need to find out your name servers from HostGator. You should have received an email that contains the information, alternatively you can login to the control panel and go to the left hand side – all the way at the bottom and look for this: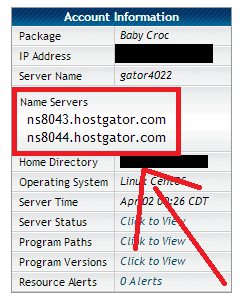 Remember these numbers. Next you login into your GoDaddy account and do the following:
Go to "My Account" (from the tabs in the top) and hit "Domains". Then "Manage my domains" on the left hand side. Click the domain you want to tie to your HostGator account. You should see this settings window, simply click manage and input the name servers you found in the above step. Hit save.
Note: Name servers might take 24 hours to update.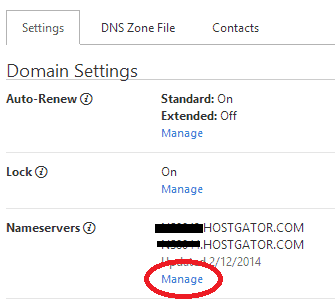 Step 1.4 – Installing WordPress from HostGator Control Panel
I like to use WordPress as the blogging framework as it allows a high level of customization and plugins that extend the usability of the website. Contrary to popular belief WordPress is not just for blogs, you can make literally any website with it.
Log in to your HostGator Control Panel and look for this:

Then look for "Wordpress" under Blog Software in the left menu. Hit continue and then you should have something like this: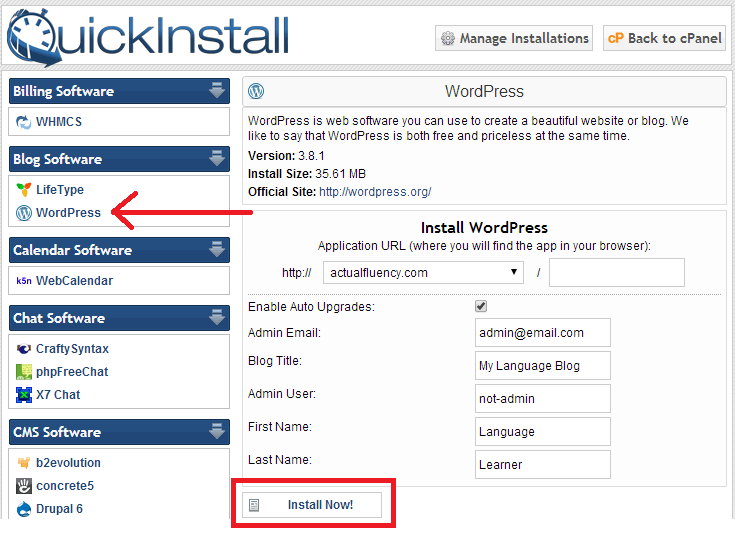 It's important to leave the field after your domain empty. The rest of the fields aren't super important (they can be changed later) but do make sure not to use the username "admin" as it is too easy to guess for hackers.
The install will take a few moments and then you will be sent a link by e-mail (don't forget to check the spam folder.) The link will look like this: yourdomain.com/wp-admin -> go to this link and you are ready for step 3.5
Step 1.5 – Setting Up WordPress
There are only a few MUST-change settings in WordPress when it is factory new. You gain access to your admin panel by following the link that ends in yourdomain.com/wp-admin.
Once you are logged in the first stop is to go to SETTINGS -> GENERAL and fill out the fields, so your blog isn't called "Just Another WordPress Blog." After you have filled out the fields, don't forget to scroll down and click "Save Changes"
The next thing you must change is how your blog is indexed by search engines, found in SETTINGS -> READING, make it like this:

This might seem weird to you, but you don't want Google to come by your site when you are just publishing it. That will end up with some very weird pages showing up in the Google Index, which is just not necessary. Once you are ready to show your blog to the world, go and untick this field.
REMEMBER TO UNTICK THIS WHEN YOU GO LIVE TO THE WORLD!
Next: Go to SETTINGS -> PERMALINKS and change the permalink structure. For some reason WP always defaults to your posts and pages being called something like "yourdomain.com/?p=125" which is not desirable. You want to pick one of the others that involve the NAME of the post. I personally use this one:

(but any with the post name in it will do)
This concludes the essential set up of WordPress. Next up is Theme and Plugins.
Step 1.6 Themes and plugins
WordPress draws a lot of its powers from the ability to extend functionality with hundreds of thousands of plugins and themes to make your site perform and look better. In theory ALL of these plugins are optional, even a new theme too – but many of them are really good.
When that is said though, these are my personal recommendations and those I use on my site today. You know I'm a cheapskate, so there are no paid plugins or themes in these recommendations either.
You install plugins by going to "Plugins." First click "Add New" at the top of the page next to the word Plugins. Then use the search box on the new screen that opens.
Essential Plugins
"Antispam Bee" – Antispam
"Disqus" – Comment Enhancement (You need to configure "Disqus" by clicking on "Comments" in the menu on the left-hand side of the WordPress window.)
"WordPress SEO by Yoast" – Search Engine Help: Adds additional fields in the post editor, so your website is optimized for search engines to find you. Go to the plugin and follow the instructions once installed.
"WP Super Cache" – Caching: Makes your website faster. Do not activate until you are ready to go live, as any changes you are making might not appear. Alternative: W3 Total Cache
Note that you can easily add more plugins as you go along, if there is a feature you would like added to your blog. Simply search the repository and follow the simple procedure listed above.
Find a new Fresh Theme
Update: I'm now a member of  ThriveThemes, which gives me access to a number of great looking themes and awesome plugins at a very affordable rate.
The default theme in WordPress is a bit boring. But you can go to Appearance -> Themes and click "Add New" generally you will find some really cool themes here, particularly in the featured section.
If you are unable to find any good themes in the WordPress collection, you can check out the resources below. Although many of them are paid themes, there are also free options in between. I personally don't use paid themes but they do offer some slick features.
Alternative Sites: Themeforest.net – WooThemes – ElegantThemes
Step 1.7 Get blogging!
You have now reached the end of this section of the guide. And have a working WordPress site that is ready to for you to start writing on.
To write a blog post simply go to Posts and use the editor! It's very intuitive, so you should encounter no problem here.
Before you are done, you need to create some essential pages. This is done via the Pages menu option. The absolute minimum I suggest is:
About Page: Who are you? Write a short introduction to yourself.
Contact Page: Add the contact form from the plugin, so you don't have your email publicly listed for spammers to attack!
That's it – congratulations with your new blog!
As always if you have any questions, or if you are having trouble setting up your blog, please don't hesitate to use the contact form.