In this post I'm reflecting on the year 2015 that just passed and look forward to 2016 with a fresh set of goals for language learning and Actual Fluency.
Happy New Year!
It seems like 2015 came and went extremely quickly. It was for me personally one of my best years ever and although I didn't achieve close to what I had hoped, I still managed to travel a lot, see lots of people and obviously do lots of writing and content production for Actual Fluency.
The highlight of the year was definitely going to the United States for the first time. Growing up in Denmark I was exposed to a lot of American culture and to find myself casually walking around Manhattan was very surreal. Actually just getting the bus from the airport, looking at suburban streets and houses and getting that distinctive American feel.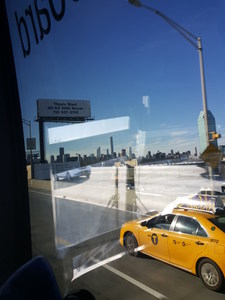 I hope to return in 2016. Hopefully this time I'll make it to the west coast.
I was also able to make it to Berlin for the Polyglot Gathering and Budapest for the Polyglot Workshops. Now 6 months after I'm still in Budapest 🙂
My language learning goals for 2015 – how did I do?
"What do you mean you didn't define any language learning goals for 2015?"
Before I started writing this post I tried to look for my goals post for 2015 to compare what I had actually achieved. There was only one problem, I didn't seem to have made one!
This shocked me a bit, because today I definitely know the value of goals and writing them out. Perhaps I somehow got confused around January, because I was extending my Russian challenge.
Either way, not properly defining your goals in language learning is a terrible mistake.
As people say, what gets measured gets done.
On the upside I didn't fail any of my goals, because I didn't have any.
Anyway, after a remarkable 2014 starting to learn Russian and really learning how to become a language learner I knew that I had to keep going with Russian into 2015 to make that initial time investment worth it.
For one I hadn't quite reached that conversational fluency level I so desired, but also I thought it would be a shame to put in that much work into a new language and then not build on your level and get it to a highly useful stage.
So that's what I did.
Going into 2015 I did not embrace any new languages. I was still doing a bit of Esperanto here and there, as a way to break up the Russian, but I mostly focused on Russian.
A year and a half into my Russian studies I was still not particularly happy with my level. Although I understood infinitely more than 18 months ago I still wasn't at a point where I could have impromptu conversations or read fluently.
I attribute my questionable progress in Russian to the difficulty of the language, it being my first self-study and also my challenge of putting in regular work. As most of you probably know I'm still recovering from a major depression and it's just difficult to focus sometimes.
This is also why I'm very interested in motivation and self-discipline because those are my weakest points.
I actually believe my Russian is amazing for the amount of hours I put into it, which isn't much.
It's like Benny Lewis said at some point: You should count the hours, not the months.
It's easy to say, damn, I've been learning Russian for over 18 months and I still can't speak it well! But in reality the amount of hours I've spent are probably less than 150!
Just as a comparison: 8 years of German in School only added up to 300 hours total.
Anyway, I'll come back to Russian later.
Moving Russian to priority two
At the half-way point of 2015 I wrote an update saying how my Russian project had now officially been retired as my main focus. I was still not entirely happy with my level, but I also realised that taking a break or a change of scenery could help.
I initially picked French as my next language for a variety of reasons. I've had it in school before, it's a major language in the world and I also like the sound of it a lot.
I barely got started on French before I impulsively decided to move to Budapest instead of my planned Berlin. After it was apparent I was staying in Hungary there was only one language I needed to learn as soon as possible: Hungarian.
In true Kris Broholm fashion it took me months to learn even the basics beyond "thank you" which was somewhat embarrasing.
But as I explained in an earlier post, the move took quite a toll mentally and I was also moving in and out of AirBnbs, trying to find a permanent flat.
Once I did find one it didn't have any internet for like a month.
As a freelancer, online language learner and blogger – this was quite frustrating.
Of course, these are mostly excuses. What stopped me from starting to study Hungarian anyway? I'm not sure, but let's just say I have some catching up to do.
Now about 6 months later I'm quite happy with my recent months of learning. I'm doing something almost every day, which is my formula for success, and I'm trying to talk to native speakers as often as possible through tutoring with iTalki or language exchanges that I'm just now trying to set up.
This doesn't mean there is no room for improvement. Trust me, I can do much better.
2015 on Actual Fluency
I really had a great time producing content for Actual Fluency this year.
68 pieces of content were published here in 2015 and while it's slightly lower than I would have hoped, posting 1.2 times per week on average is acceptable.
Major events on Actual Fluency from 2015
Podcast growth
From the very first day in the history of Actual Fluency I always considered the podcast my biggest achievement and today it's a cornerstone of this website. In 2015 I had massive growth that just proves how important it is to "keep going!"
Check out these download numbers:
In the entire 2014 – the first year of the podcast (first download recorded May 19th) AF saw:
34,000+ downloads
Which is great, and you have to start somewhere – right?
But check out the 2015 numbers:
124,000+ total downloads! Or +360% of last year.
That is amazing. Thank you so much for being a listener of the show.
My book: Polyglot Beginnings
Although not exactly my huge vision of a book, I still managed to finally get some of my thoughts on paper and also describe my story in greater detail. If you're interested in the book you can pick it up here: Polyglot Beginnings. It's absolutely free and a quick 30 page read.
In the book I share some of the pain and depression I was suffering from a few years ago and it symbolises the recent development I'm going through of beginning to share some of these not-so-great aspects of life.
At first I was very hesitant to do so, because I was worried people from my past would read it and judge me in some way. Or maybe I was just worried it would mean people would think less of me.
Today, however I've realised that the value I can bring is exactly this. Depression is not exactly an obscure ailment – people keep saying like 1 in 3 or 1 in 4 adults will suffer one or more depressions during their lifetime.
That's why it's super important to bring it out in the open and talk about how to counter it.
This is what I'll definitely do more of in 2016. And I still expect to release my full book in the near future. I just need to get a bit more inspiration first.
The crowd-fund for Season 2 of the Podcast
Early in 2015 my computer died, leaving me with only a super budget laptop to do everything on. School, work, editing, blogging. This was devastating and I almost quit podcasting here because it was too cumbersome to edit on a very bad computer.
Luckily I came up with the idea of running a crowdfund for the podcast, where I gave listeners the opportunity to support the show. I've always been uncomfortable asking for donations and money in general – so I massively stepped out of my comfort zone to do this.
Surprisingly to me the support was incredibly overwhelming and I managed to collect enough to replace my computer with a very fast one, which saved the podcast and my peace of mind for the rest of 2015.
If you were part of the people who supported, I just want to thank you again. It was incredibly touching to see that you liked my little podcast so much that you were willing to part with some of your hard-earned money to support my efforts.
I know that one of the rewards was my book, that I had in progress, but I decided to scrap the manuscript and use the inspiration to write Polyglot Beginnings instead.
I know this isn't quite what I promised, so to make up for it I'm going to make all my future books and courses available for free to anyone who supported the crowd-fund back in February of 2015.
Opening (and closing) the VIP section
In an attempt to make it easier for the supporters above to access the behind the scenes content I added a VIP section to the website, allowing people to support the podcast with a small monthly fee and in exchange get access to behind the scenes content and other extras.
After months of promoting I had managed to sign up one person!
I quickly realised my time was better spent elsewhere and shut down the VIP program. Podcast supporters from the crowdfund can still access the behind-the-scenes content I put up.
One of my plans for 2016 is to look at possibly integrating Patreon into the podcast. I think it's a very pure concept and it also allows me to offer the supporters of the show extra stuff on a regular basis. A bit like my VIP idea, but I don't have to develop the whole platform first. I can simply use Patreons system and pages.
Let me know what you think of that idea in the comments below.
The future of Actual Fluency
In the next blog post I'll talk about my goals for 2016 for language learning and Actual Fluency.
In 2014-2015 Actual Fluency was just my language learning log with a few interviews sprinkled on top. It was very irregular and let me be honest the posts were not always fantastic. Due to lack of planning I was often writing the posts minutes before publishing. No editing whatsoever.
What I want to do in 2016 is to grow Actual Fluency considerably and make it more professional. I want to get the message out more and wider and I would absolutely love to reduce hours at my day job in order to spend more time doing that.
What that means for you as a reader/listener/viewer is that the posting will be more regular and of higher quality.
Hopefully with my new efforts I will be able to increase the somewhat symbolic earnings of Actual Fluency to a level where I can justify taking the time off and spending probably 40 hours a week on the project. It's not a requirement for success, but it would be nice 🙂
Hope you had a great New Year, see you in the next post!