As we're coming up to the end of November it's time for one of my favourite events of the year.
Black Friday and Cyber Monday. If you're not familiar with the terms, they are basically the biggest shopping days of the year in large parts of the western world.
This means one thing for us language learners: DEALS!!!!
Deals Index
Black Friday 2016
Here on Actual Fluency I've always been reviewing and recommending loads of software, resources, books, and courses to help you become a hyperpolyglot that much faster.
Of course the language companies have their own sales once in a while, that offer good bargains, but nothing quite compares to Black Friday and Cyber Monday where you can routinely pick up 50% or more off some of the best language learning products.
By taking advantage of these offers through the links here on Actual Fluency you also help support the site and the development of language encouragement content, as I'm also an affiliate for some of the products and services. This means in practice that I get a small commission, at no extra cost to you, should you decide to purchase.
I only recommend the best products at the best percentages. If I feel like a product has a superior alternative at a lower price I will recommend you the lower priced product, not necessarily the one giving the highest commission.
Actual Fluency: Language Motivation Mastery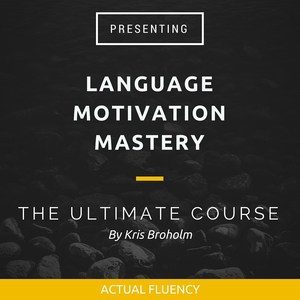 Language Motivation Mastery is my first flagship product and includes the following features:
*** 6 week comprehensive theoretical programme – combination of audio, video, and text ensure that the material stays interesting and dynamic.
+++Lifetime updates: When I update the programme in the future, you will of course have access to the newer versions.
+++Printable workbook: To stay on track, and space to journal your thoughts and dreams for increased success.
+++Lifetime Community access – Private Facebook Group and Forum ensure a lifetime community of like-minded language learners.
+++Unlimited email access: – Ask me anything about motivation or language learning.
+++Early Bird Bonus: Language Learning for Introverts by Anthony Metivier (Video/MP3), ends after the end of Black Friday.
It's way more than just a course, it's a fully integrated programme and community to maximise your language learning output, and reduce the risk of failure dramatically.
Supercharge your inner motivation and never get bogged down by procrastination, overwhelm or other negative feelings again.
You can find out more and register for LMM now on this link:
---
Benny Lewis (Fluent in 3 Months) Bundle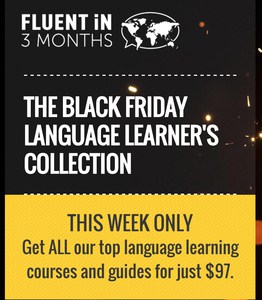 We start off the week of commercial celebrations with a great bundle deal from Benny Lewis and Fluent in 3 Months.
This is great offer if you have not yet invested in his premium program, where you can pick up some extra stuff for your investment and ultimately save 75%.
The bundle contains:
Fluent in 3 Months Premium ($97 value)
Conversation Countdown ($67 value)
6 books from the "Why X is Easy" series: English, Spanish, French, German, Italian, and Chinese ($234 value)
All this for just $97, which is a 75% discount.
Grab the Bundle
---
Innovative Languages Podcasts
USE COUPON CODE: BLACKFRIDAY2016 for 51% off in this banner:

Offer expires in 72 hours! Act quickly.
I'd recommend investing in a few months upfront, to increase savings.
---
Rocket Languages Audio Courses
Premium audio-based courses with lots of content and extra features.
Huge advantage of Rocket is that you get access to the materials forever, so you don't have to pay a monthly fee every month to learn your target language.
Or when you need to brush up on it a few years later.
Up to 60% off for 3 days only or when 1000 copies have been sold of each language.
---
Pimsleur Method
You can get 25% discount on digital and the new ultimate versions of Pimsleur, which is 250% better than their previous best discount!
Americans can also get 50% off the more old-school CD packages, that still contain the same good Pimsleur content we're used to.
Check out the Pimsleur sale and get up to 50% off!
Expires on Monday the 28th, midnight PST.
---
Glossika
Spaced repetition for audio, available in many languages.
Get 20% off with the coupon code "BLACK-20"